We are Ralf and Conny Malz, both born 1967/68 and we lives with our Flats in a suburb from Kassel, our hometown. Kassel is a city in the middle of Germany, surrounded by hills and mountions, with a river and some small lakes in the area. Conny and I are working for the goverment in different tasks.
Our Kennel Affix is "Beautyfield´s".
Conny makes agility, dummy work and also shows our dogs. She is the brain at our Kennel. I´m hunter and hunting dog judge and so I´ve train our dogs as gundogs, go to huntingtests and to hunt. Since 2002 i´m involved in Gundog Training at the local and regional hunting dog society.
Since 2003 I´m judge for Hunting tests in the German Hunting Society (JGHV) and 2014 although for Retriever (DRC).
We have start our breeding intentions at 2003 and have had our first litter after CIE Wagging Tails Rolf Muntz, which puppies are now sucessful in the 2nd generation.
Coco has had her first litter in breeding right by our friend B.M. Mallfors which has breed with her in 2006 and we had done the first litter under our affix "Beautyfield´s" with CH Wagging Tails Rolf Muntz. We hope that we can make the breeders of our foundation dogs proud of us.
Our breeding ideals are breeding real "Dual Purpose Dogs". Excellent dogs after the FCR Standard, which aren´t blame herself in the showring on the one side and be sucessful at working, huntingtests an maybe sometimes in the future fieldtrails. But for work it´s nescessarier for us that they have good hunting dogs and not only sport-dogs.
Our dogs since we started has been:
Merlin was the first Flatcoated Retriever, who entered our life in 1996, followed by his sister
Leá. This changed our life forever. Merlin died in spring 2005 of cancer, Lea goes over the rainbowbridge in spring 2009 with 13 years.
What started with a nice pet for my wife, changed in a really fast way, to a great hobby for me and my wife. First the dogs, than the shooting licence, hunting dog training for the dogs and me, agility training for Leá and my wife and the growing wish of breeding black and liver Flatcoated Retriever with excellent working talent in a few years.
In 1998 we got GER CH / VDH CH Camwood Randy the Copper Rebell, our joker, breed by Sven and Andrea Gmür´s Camwood Kennel, from Switzerland. He was a liver stud dog, with excellent results in German shows and work. Randy has been put to sleep at the age at 12 years and 9 month because of age problems. He couldn´t walk anymore.
In 2002 we got a nice black girl from Britt-Marie Mallfors and Calle Klippmarks Calebris Kennel in Sweden, Int U CH/ GER CH / VDH CH / Lux.CH/ Ö CH/ Polnish and German Veteran Champion Calebris Coco Beautyfield Mousse. She was a pretty, happy and workaholic girl, which absolved several Gun Dog test on first placements and has had Championtitles from Germany, Luxembourg, Austria, Poland. In Sweden and Switzerland she was shown with sucess.
As International Champion with Show and Working merits she gave us 2 litters, from which we got Smilla - CH Calebri's for your eyes only and
CIE CIB Beautyfield's Amy Winehouse after MultiChampion Wagging Tails Rolf Muntz.
Stina is surely our most famous bitch, which had been Flatcoated Master winner 2013 in open class /Sweden and is CH in several countries., but even more she gave us 2 great litters, the C-Littter after Popartists which has 3 International and National Champions, Bfs Coco Chanel, Clint Eastwood and Colin Farell.
And our F-Litter after Cocktails, with 3 Champions and sucessful working dogs, GBCH Bfs Flashdance at Telurn, S(U)CH FinCH Bfs Frozen Daiquiri, VDH & HunCH Bfs Flatliner & Bfs Fancy Stella Rose.
From the Calebris "BOND-Litter we get "CH (VDH) Calebris for your eyes only" called Smilla or sometimes Grinch. Smilla got her German Champion title in March 2009. She has although sucessful absolved several hunting tests. The VJP in spring 2007, a vildspur beginner test with Godkänt in Sweden in Summer 2007. The JPR in Germany with 260 points with 1. place and the HZP with 176 points in autumn 2007. Furthermore she absolveld the elite huntingstest (VPS) with 192 points in 2nd prize in autumn 2007, as testwinner too. In spring she was first by the Btr Test. At shows she got 1 CACIB and several CAC's.
We have our B- Litter with her. She was mated with S(u)CH Kvicksans Hole in One - " Jerry". A young male which lives in the near of Uppsala and is related to Skrallan over his father, CH Black Micas That´s enough "Sune" - an outstanding male at the moment in Sweden, owned by our friend/ breeder Linda Edberg. More you can see under Breeding/B-Litter. The puppies was named after "Fasion Labels" and we take

CH Beautyfield´s Balmain from that litter. Svea give us our G-Litter after CIE CIB Black Amandas Punch Line. The puppies has moved to several countries, so we got an Italian Junior Champion , an Japanese Champion, an English Stud dog and nice sucess in Germany as well.
On May, 30, 2008 - Ger Club & VDH CH LuxCH Black Mica´s for honor & glory / Skrallan moved to Beautyfield´s for the posibility of a 2nd breeding line. A nice temperamentful girl from Black Mica´s Kennel in Uppsalla/SWE. Many thanks to Linda. Skrallan is a daughter from SUCH Black Mica´s that´s for sure and NUCH Hempths Vally-Vic. A granddaughter of twotimes Stockholm winner, SUCH FinCH SV Black Mica´s Don´t Quench the Fire. Skrallan has several working and hunting tests absolved. She was breed in 2012 with GBCH Calzeat Causa Commotion (Denver) and 2016 after S(U)CH Flathams Häljt a Hoole Shläng (Duster) . After Denver we got 3 International and National Champions. Dusters offspring has some sucess, but they are still young.
The coming plan will be to breed Stina and Svea a last time in 2017, and than there will be the next generation.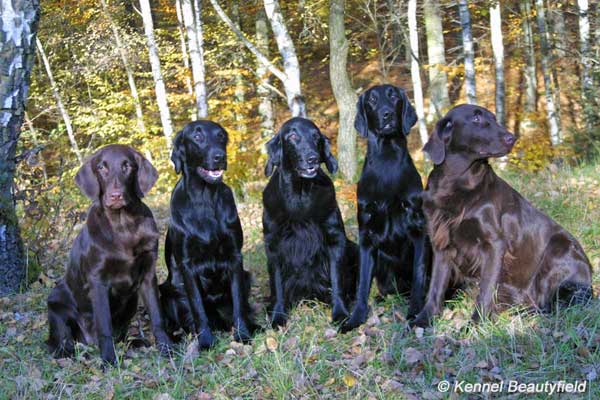 We show our dogs at several shows a year in Germany and other countrys and trained them for tests and hunting activites.
we`ve now owned and breed 20 International and National Champions in Germany, United Kingdom, Sweden, Finland, Germany, Japan, Italy, Luxembourg, Hungary, Poland, Belgium, Austria and more.
Our dogs are participate in Hunt, Fieldtrails, Workingtests, Obidiencetests and are still familymembers. We try to breed real Dual Purpose Flatcoated Retriever.
All of our dogs lives in our house as real familiy members and we enjoy her quality as pet in the same way like their working qualities and their sucess at the show ground.
But with all in our life, sometimes you´ve fun and luck, sometimes not. So Merlin our first, died of cancer short before his 9th birthday. We put his sister Leá to sleep at 13,5 years about cancer and Randy left us in December 2010. We´ll never forget them.
Whoever has said, "Flatcoated Retriever are the greatest dogs of the world", he has found the right words for this supereb dogs.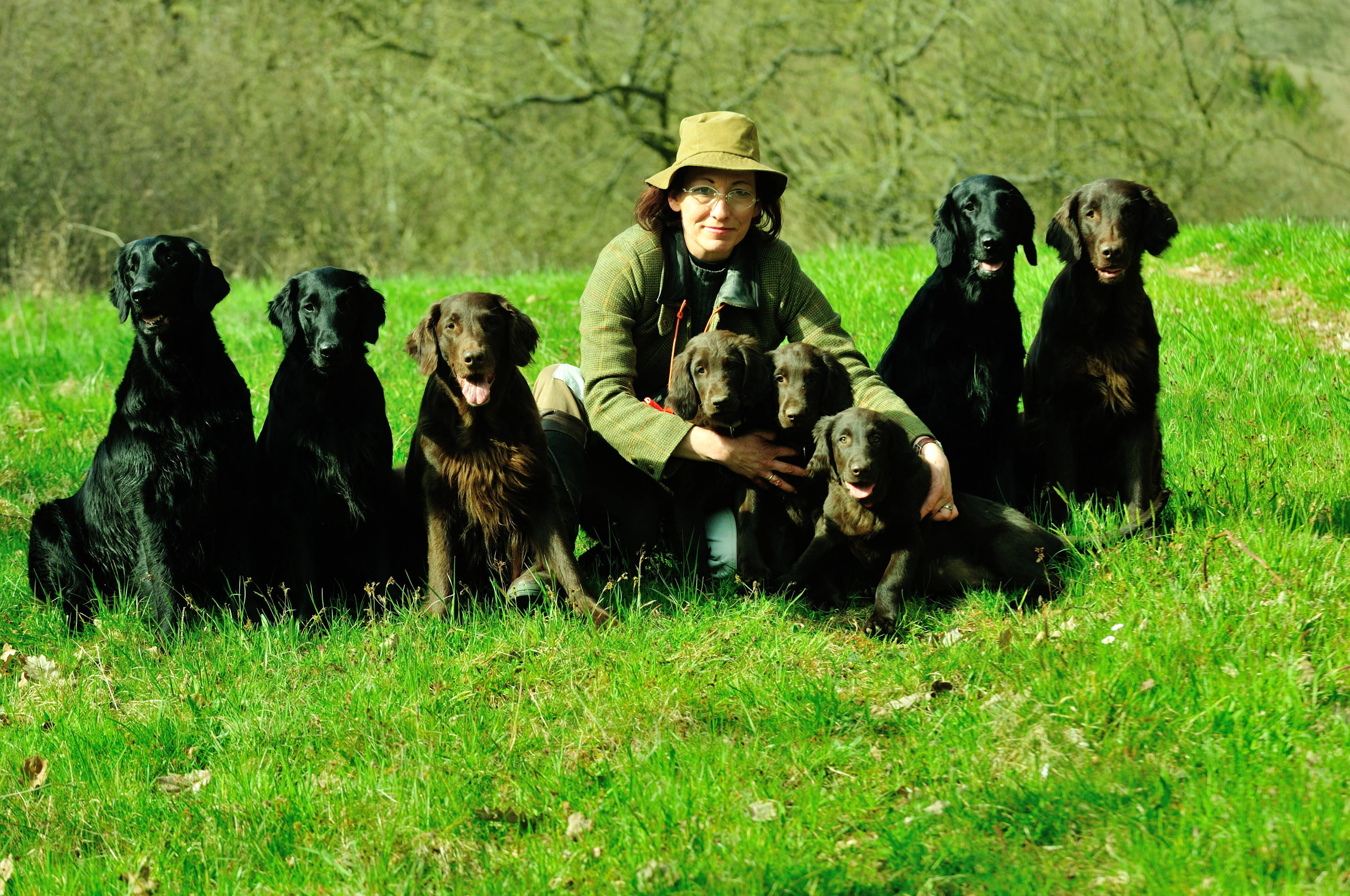 Ralf Malz June 2017