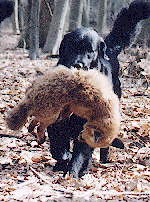 Hunting
This is Ralf special part. He started with some retrieving training with Merlin as his puppys time. With nothing more than some Infos from a book.
He did it well and we´started hunting work at a gun dog trainings group, there I was invited in hunting as a sport and I got my licence in spring 99. Merlin, Leá, Randy and Coco absolveted in the last years some competions and tests as gun dog with great sucess. So Randy has very excellent results at hunting tests and Coco was three times winner at different tests. Smilla has her first test´s in spring and solved they with sucess. In the meantime Conny has start in hunting tests too. Especially after an illness from Ralf. She has lead Skrallan sucessful on several tests.
All of our dogs are in permanent hunting works. Especially Randy until his 10 year and since 2003, Coco, too. Smilla started as far as she has come home with training and absolved the most of possible hunting tests in 2007, were she was 3 time winner at JP/R, VPS and Btr (2008). Smilla started in 2008 at the Flatcoated Master Cup in sweden an was 39th from nearly 100 entries in her class.
Skrallan started hunting tests in 2009 with Conny, and absolved sucessful three of them until now.
The small ones are in training and we´ll see what happened in autumn 2010.
In 2002 I´ll start to teach a gundog lessons at our Hunting club in Kassel. And since the end of 2003 I´m judge for Hunting tests at the German Hunting Assoaction, which is the head for Work and test all German Hunting races. We have hold Puppy, Junior and Adult hunting training and so long as we and the handlers of the dogs will have fun by that part of our hobby, we´ll do that furthermore.
Agility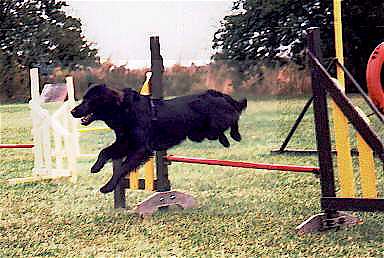 Agility is a special interest from my wife Conny and Leá. It ´s a hobby and a nice working for the dogs, but not a main part of our dog work.
But after time goes by and Lea is dead, the main view of our activities are showing, huntingtraining and hunt and dummywork.
Obdience
We started obdience training, with all of our dogs, as soon as we get them from our breeders. We think it´s important for the dogs and for their life with us and all the other parts of the life.
We don´t start on competions, because there are no competions in our country. Here you have some tests and nomore, but it´s the groundstock for other workingparts, like hunting, dummywork and agility.
Dummywork
Another interested part is training hunting tasks with dummys. Conny and Coco train for and start at workingtests. I normally use it to train the dogs during the week, because I´ll not take game by every training. It is easy to try and you don´t need much area. On the other way in my opinion, it is only one part to train the dogs. There real abilities, will be shown only with real game under real hunting conditions. So a it´s not sure that a dummy trained dog will take cold or/and warm game during a hunting session.